Yamamoto Washer Extractors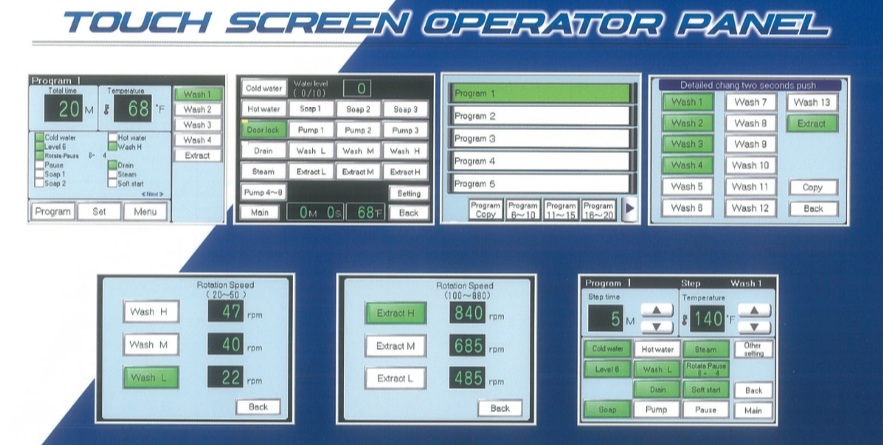 Yamamoto soft-mount washer extractors, the forever machine, are crafted to the highest standards while maintaining a cost effective solution for on premise linen cleaning.
Yamamoto offers the WUN series of softmount washers in the following load sizes:
WUN 162: 50 LBS Capacity
WUN 222: 65 LBS Capacity
WUN 302 80 LBS Capacity
WUN 352 95 LBS Capacity
WUN 502 140 LBS Capacity
WUN 1001Z 260 LBS Capacity
Models up to 460LBS Capacity are in development.
All Yamamoto on premise laundry washer extractors feature high speed extract, with the ease of soft-mount installation. Robust door hinges, door, and locking assemblies ensures longevity, and an apron below the door to make unloading easier is included standard in every model.
Other attributes for this brute of a machine include:
• Easy to use touch screen, sequencing control that caters to all industries and can store 100 wash formulas,
• 8 chemical inputs with easy to access signal outputs and injection ports,
• Premium efficiency motor and inverter controls that allow for delicate mechanical action. Controls are so sensitive, that the drum rotation speed can be changed by as little as 1 rpm and the rotation time by 1 second.
Notice the easy-to-use control panel that requires no special programming software to edit. The laundry operator can manage his or her own laundry equipment with the touch of a button.