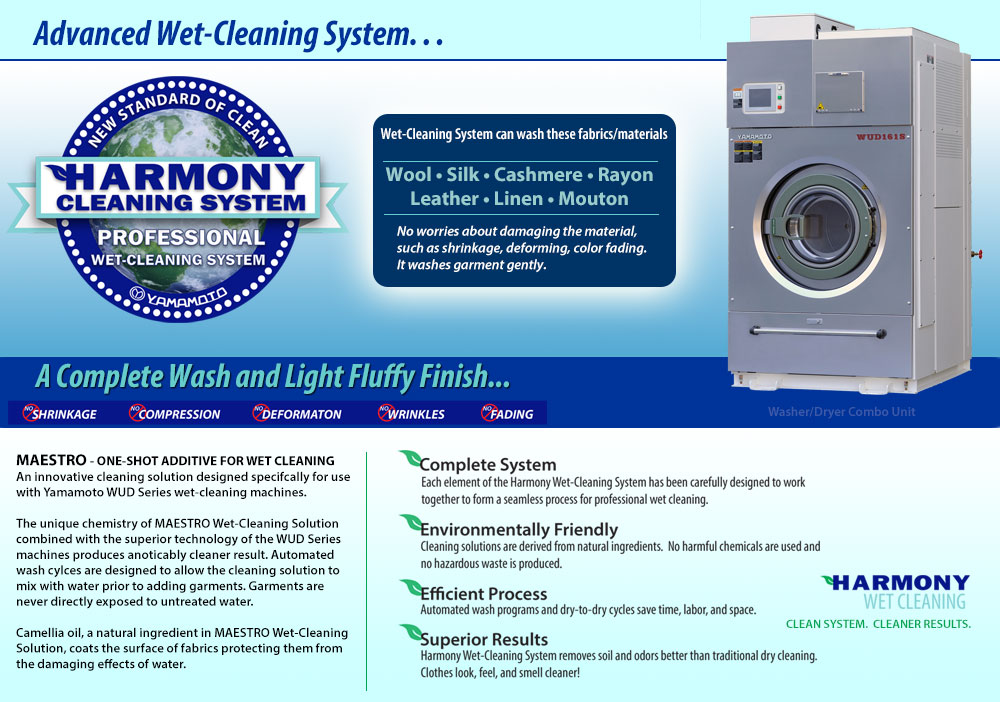 WOOL • SILK • CASHMERE • RAYON • LEATHER • LINEN • MOUTON • AND OTHER DELICATE FABRICS
Harmony is a truly amazing On Premise Laundry system that incorporates Yamamoto WUD Series cleaning machines, tumble dryer technology, and the Maestro cleaning agent, so that the operator only needs one machine to wash and dry the material! Save on cost, go eco-friendly, avoid regulation, and simplify your process.
The unique chemistry of MAESTRO Wet-Cleaning Solution combined with the superior technology of the WUD Series machines produces a cleaner result. Automated wash cycles are designed to allow the cleaning solution to mix with water prior to adding garments. Garments are never directly exposed to untreated water. Camellia oil, a natural ingredient in MAESTRO Wet-Cleaning, Solution, coats the surface of fabrics protecting them from the damaging effects of water.
The Harmony Wet-Cleaning System allows for replacement of harsh chemicals with milder solutions eliminating hazardous waste & excessive pollution to the water, air, & soil. This machine comes in 60# and 80# sizes.
Complete System
Each element of the Harmony Wet-Cleaning System has been carefully designed to work together to form a seamless process for professional wet cleaning. Put in dry materials to be cleaned, and remove dry materials with the cycle is done! Dry-to-dry in one machine!
Environmentally Friendly
Cleaning solutions are derived from natural ingredients. No harmful chemicals are used and no hazardous waste is produced.
Efficient Process
Automated wash programs and dry-to-dry cycles save time, labor, and space.
Superior Results
Harmony Wet-Cleaning System removes soil and odors better than traditional dry cleaning. Clothes look, feel, and smell cleaner!
Possibilities for this machine abound:
Hotel Concierge Dry Cleaning: Hotels can easily add dry cleaning services for their guests without the hassle of environmental regulations surrounding most equipment capable of cleaning such delicate materials. Hotel operators can add high margin services for guests seeking work-related clothing cleaned, increasing customer loyalty, margin, and convenience.
Dry Cleaners: Most dry cleaning establishments send their material elsewhere for cleaning, lowering margin, increasing time, and decreasing customer loyalty. Imagine if a dry cleaning operator could, without difficult regulation, process wool, leather, rayon, mouton, silk, and other dry cleaning materials fast, efficiently, and less expensively! Because through-put is so much faster, the dry cleaning operator can charge more for their services while enjoying a lower marginal cost per pound of material…adding up to better business!
Athletic Laundry Operators: Athletic uniforms can be made of some very sensitive materials. Often modern wet-cleaning materials can not remove field paint or sweat smell efficiently. At the same time, their reliance on mechanical action can degrade the uniforms quickly. The Harmony system fixes those issues, plus simplifies the washing process, by incorporating washing and drying in one machine! Imagine, wash and dry in one unit. Genius!