Are you thinking about building a laundromat?
WORK WITH THE BEST IN THE BUSINESS!

Did you know that the Huebsch distributor network carries the highest rated customer satisfaction score? Better than Dexter. Better than SpeedQueen. Better than anyone.

You have absolutely come to the right place.

National Laundry Equipment, LLC

and

Huebsch

is your smart laundry solution.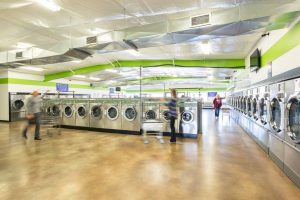 We can help you:
Design your laundry to develop the most ergonomic and beautiful laundro
mat in your area,
Set your budget so you make a maximum return on your investment,
Perform demographic analysis so you know what your target customer base wants,
Negotiate with landlords so you have a favorable lease,
Communicate with state officials to minimize impact fees and building fees,
Develop pro-forma financial statements that focus your attention on the right goals,
and, Walk you through the entire process from installation to running a successful laundromat.
Is the Coin or Card Laundry Business right for you?
You need only look around a commercial area to see the success of businesses catering to our fast-paced society needs. Drive-through coffee shops, 10-minute oil change, fast-food restaurants and automatic car wash franchises are just a few of the models turning time savings into profits.
Coin laundries are providing similar efficiency with their large, multi-load commercial laundry equipment. These machines enable customers to reduce what would be an all-day task in their homestyle washer and dryer, to just one hour at a vended laundry.
Investors have been parlaying time savings into big profits, particularly in the United States, where coin laundries generate $5 billion annually, according to the Coin Laundry Association (CLA).
Adding to the appeal of self service vended laundries as an investment opportunity is the fact that clean clothes are a necessity. One can choose not to go out for lunch, a premium cup of coffee or even wash their car. But clean clothes are a must. That fact also makes the business virtually recession proof.
And coin laundries deliver benefits other ventures can't, starting with no franchise fees. Once you open a vended laundry with Huebsch® equipment, the business is all yours. Unlike many other small business ventures, vended laundries have no on-going corporate mandates or annual franchise fees.

Additional benefits include:
Great potential ROI of 25 to 35 percent
Cash business
Payment upfront before service
Off-site management – you determine your own level of involvement
No payroll/withholding headaches
With National Laundry Equipment, LLC's laundromat expertise, Huebsch's more than 100-year history, superior market knowledge, wide variety of services and reliable commercial laundry equipment, we have all the tools available to assist entrepreneurs in opening a coin laundry, whether as an added source of income, retirement investment or a full-time business venture. To learn more about the self service laundry business, call us today! 1-615-885-1115