New Generation II readers from Card Concepts, the next generation in FasCard arrive in the 4th Quarter of 2017!
These amazing new readers allow coin laundry operators to take all major credit cards and debit cards, utilize the industry leading loyalty card system, use the android and apple apps, AND take coins the way grandpa used to do!
Features of these amazing new readers are:
WiFi enabled,
3.5 inch color touch-screen display that is specifically designed for rock-hard toughness,
5 RGB status LEDs,
Dual coin input support,
NFC capable,
Multi-Vend compatible,
Includes all needed hardware and wiring kits,
ONE reader can operate BOTH pockets of a stack dryer with the F2 Stack Add On Kit.
Two year warranty.
THESE READERS DEBUT AT $689 each, and can be retrofitted into your old FasCard system easily.
GREAT NEWS! THE GENERATION I READERS HAVE BEEN DISCOUNTED!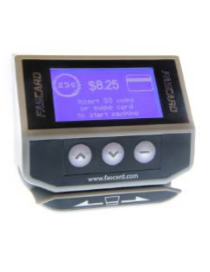 The venerable Generation I readers are now priced better than ever, in celebration of the Generation II's debut!  You can now buy these readers for $585 each!
Features of the Generation I reader:
WiFi enabled,
Backlit graphic display,
3 button keypad,
Multi-vend compatible,
All required mounting hardware and wiring harnesses included,
One year warranty.